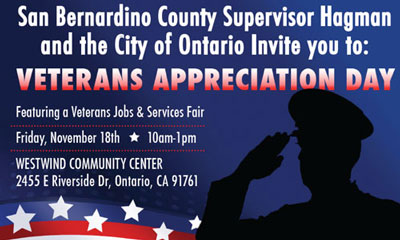 Please join San Bernardino County Public Attorneys Association, San Bernardino County Supervisor Hagman and the City of Ontario
November 18th from 10am - 1pm for
"Veterans Appreciation Day"
To help make this event a success we need your help to ensure the Veterans Jobs & Service Fair is able to offer opportunities to those who have served our country.

Your donation will help provide vendors, resources and much more! Every dollars counts!
To read more or find out how you can help, please visit SBCPAA.org - Veterans Appreciation Day
To make a donation now click here