Fundraiser for Rudy Sanchez Sr.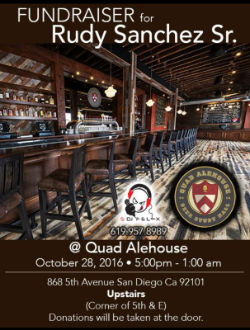 All SDDAIA members are encouraged to come out and support 120 Deputy Rudy Sanchez Sr.


October 28, 2016, from 5:00pm to 10:00pm at the Quad Alehouse, 868 5th Avenue, San Diego CA 92101
(Upstairs on the corner of 5th and E St.)


Rudy was seriously injured in a motorcycle accident while riding to work last week. Please see flyer attached.
A go fund me page has been set up, if you would like to assist please do so, all donations greatly appreciated.
https://dm2.gofund.me/2s85f5g